Today, Nov. 17, 2010 is Prematurity Awareness Day. Which means a lot to me. As a mom of a preemie, due to unexplained Premature Rupture of Membranes.(In other words, my water broke and then I went into early labor.) Just short of 24 hours after my water broke my beautifful little Layla Brook was born. March, 4, 2009 at 12:02 AM weighing only 4lbs 13oz and 18ins long. It was the happiest, scariest and confusing day of my life.
I have to admit before Layla was born I was completely naive about prematurity. It was something that happened to someone else. Not me, I did everything I was supposed to, everything the doctor said, ate a good diet, got a little exercise, rested and napped alot, just all in all took care of myself. I had no problems during my pregnancy, a little morning sickness(Well all day nauseousness) and some pretty bad back pain, but nothing severe. But then came March 3, 2009. That was really when things changed. I woke up in the middle of the night, when my water broke. After calling the on-call doctor we headed to the hospital and went to Labor & Delivery. During the next 24 hrs, nothing much happened, I was giving a streoid shot to help improve Layla's lungs, and began having some slight contractions, but nothing much. At this point I was in a state of wait and denial. I still did not think much about her being born early. Then they started talking about inducing the next morning. (The risk of infection is very high once your water breaks.) Now I start to get a little nervous. But I am still clueless about prematurity. I have no idea what the odds are for 34weeks. I have no idea about what struggles we could be facing. I don't really think to ask. I did ask "Will she be ok, if she is born now?" To which the nurses said that she should be, so I take that as this is common place and it is nothing to worry about. See I was completely clueless!
Well, Layla was born. That is when I started to realize the impact of being born premature. I only got to see her for about 2 seconds after she was born, before the nusres ran her over to the nursery.(Thankfully was right across the hall.) Not sure what happened with her at that point, because I was unable to go anywhere. And aparently I went to sleep soon after. I woke up several hours later and went to nursery. I was able to hold her and actually take her to my room for about 30minutes. Then the doctors got there. At around 7:30AM March 4,2009, Layla's first Pediatrician came in and told me that I would not be able to have my daughter in the room with me and that she would have to stay in the NICU. Ok, there are no words to describe the feelings and thoughts going through me at that point. But ok, she needed to be monitored so I would deal. Just a few short hours later a man came into my room and said "Hi! I am____________, Layla's Neonatologist. I think my brain just stopped at that point. I still have no idea what his name was, just can not remember. I also remember little from that first conversation.
Layla had trouble keeping she oxygen level up, so she was going to be monitored for a while. Thus began our short stay in the NICU and our journey with prematurity. Layla was given anitbotics for possible infection, an IV for fluids,(she actually did not eat for a few days), and monitors for breathing, O2 and tempature.She was in an oxihood for about 24hrs.(Which made her look like she was in a bubble) She got diaper rash soo bad, the only thing that helped was laying naked butt up in the air under the lights.
But after 6 long days she came home. So for us, our NICU stay was very short, but very long.
March 4,2009 4lbs 13oz 18 ins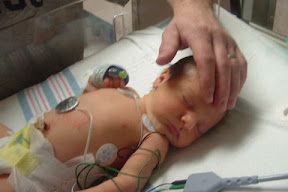 Nov. 17 ,2010 aprox 24lbs
To end this post I am going to quote a friend.
"So on this day, I ask that you think of our babies. Right now at a hospital near you, a mother is wringing her hands, staring at a monitor instead of her baby's eyes. She's praying they can all make it through the night. She's wondering about today, tomorrow and next year. She's feeling guilty, wondering if she could have done something different. She's looking into the faces of the strangers caring for her not-yet-supposed-to-be-newborn, hoping they know how important that tiny bundle hooked up to all the wires really is." Trish Cox
- Posted using BlogPress from my iPhone